Parisian Painter Michael Stervinou Crossed Oceans to Exhibit His Work and Landed Straight in LA at Agenda Loft in Downtown! Next Stop, Sunset Blvd.
By
Kaylene Peoples
| May 3rd, 2011 | Category:
Art
|
1 Comment »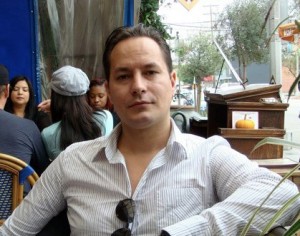 French citizen Michael Stervinou was born in Romania and currently resides in Paris. After studying international trade, he began to paint in 2005. He is self-taught and inspired by the "inherent need to see."   Stervinou recently exhibited at Agenda Loft in Downtown LA, and now his paintings will be moving west (to Sunset Blvd.).  His art inspires and stirs emotions.  With his bold splashes of colors and abstract forms, Stervinou's paintings are a real "impressionistic" contribution to our Los Angeles landscape.
Interviewed by Kaylene Peoples
Responses by Michael Stervinou
What inspired you to become a painter?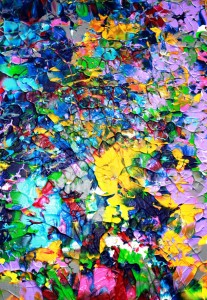 When I was little, I usually watched art shows on TV, and I went to different museums with my parents. I thought that it was magic to be able to do that.  After my studies I decided to start, to try to paint. I remember saying to myself that I must be able to make something happen with painting. I loved Dali at the Seville Museum in Spain. His talent surprised me a lot. It gave me the desire to paint.
How would you describe your style?  I love the acrylic and textures in your work.  What do you do to create that?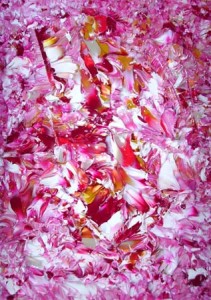 My style is modern, timeless.  I like the acrylic because the texture is easy to work. The colors that I can get with this material are interesting and lovely. I like to do gradations on my paintings if you look at them.  I paint directly on the canvas. It gives me the emotion, and a state of mind to do it by instinct. It also surprises to inspire me to come up with unexpected colors and style.
You recently had an exhibit at Agenda Loft in Downtown LA.  You flew in from Paris and debuted your newest series to a non-French group of art lovers.  What was that experience like?   Was this your first visit to the United States?  How did you like it?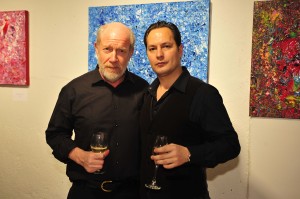 I came to the United States several times before coming in February for the exhibition. I really enjoy this country and I love the American citizens. They are generous and take time to talk. This is very pleasant. Showing my art in Los Angeles, at Agenda Loft was a tremendous experience. I met some nice people and shared my work with those who have that same passion. Arun [Nevader], Kaylene [Peoples], Anna [Ferguson], and all the team (Josh . . . Richard . . .) welcomed me so kindly. Thanks to them all. During the opening show, I had the opportunity to meet a lot of actors, designers, singers, and lots of artists who really inspired me.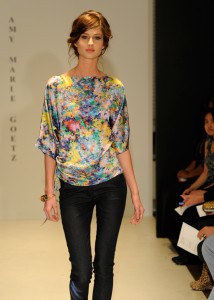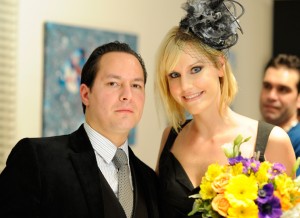 Fashion designer Amy Marie Goetz created her premier collection based on your paintings entitled "A Kiss of the Orchid."  She created prints and designed pieces specifically for her runway show.  That is a rare thing.  How did you and Amy Marie meet, and what was it like helping her get prints in time for her big show?
Yes, you're right, but rare things are the best ones. I met Amy Marie during my previous trip to L.A. in October 2010. We discovered our own activity. I immediately liked her style and her work. The way she creates her garments is stunning. She is so talented and passionate. We decided to create together something original for her premier collection. I made a painting especially for the event. The painting "A Kiss of the Orchid" deals with the meeting between the two of us, that's to say, between Art and Fashion. Art kisses fashion and makes a common creation. The tops and the scarf that Amy Marie made successfully are the result of an artistic vision that we shared. It was really amazing, exciting to do this!
Are you working on a new series of paintings?  And if so, what is inspiring that future work?  Will you be applying the same medium?
Yes, I am working on a new series. I called the next collection "I.D." The main idea is to permit us to question ourselves about who we are. I want to give this collection a human dimension. It is precisely made with the same medium but in a different style. The collection is colorful but not as much as the previous one was. I think identity is something that we make every day of our life. We remember each of us because of a proper detail. I love looking at people during hours. It is so rich to me. It inspires me so much.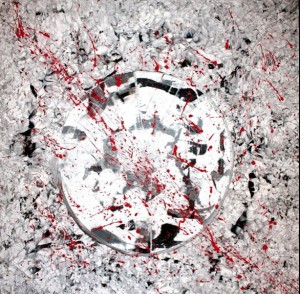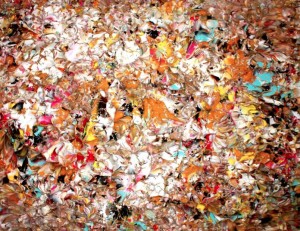 I had a few favorite pieces:  the ones with the bold colors, particularly those with the splashes of vivid red and those with gold.  If you could describe your current series, how would you do that?  What were you thinking when you created it?
Indeed, I like to use a gold leaf. The aspect is very nice and precious. I am attached to the aesthetic side of things. I usually make gradations as you can see on the different paintings. I love that. I like the idea that you never get the same vision each time you look at it; you always continue to discover new gradations, new forms. For me a color can give birth to emotion. A varnished red or black is so special to me, so deep. My mind is flying away when I paint these colors.
What do you sell your paintings for?
I re-invest a large part of benefits for exhibition, trips, artistic projects, raw materials . . . I also live from my art. I think this is a pleasant job.
What is your highest high (best moments) as a painter?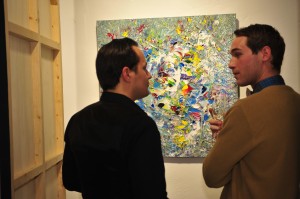 Painting! When I paint, I am alone, music in the ears, and I am in my private space. These are very special moments. I can feel free, happy. You know, when I paint, it is as if my mind was splashed onto the canvas. Can be violent, but it is true. Painting is an honest act. That's what I like, too. Second best moment is to share my art. When you talk to people around a painting, this is a warm moment. I learn a lot from each person. I like people who like to express themselves. I got this feeling at Agenda Loft during the opening show.
Any low points or hurdles in your career?
Yes! Showing my art is difficult. There are more and more artists so it's not so easy to have the opportunity to exhibit. Imagine, I visited many galleries in Paris.  Most of them are occupied and do not welcome new artists. But you see, I found the solution to my problem. I traveled an ocean and arrived in L.A.
What advice could you give to an aspiring painter?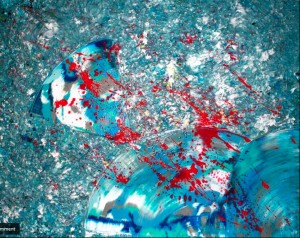 I am not sure that I can give any advice. But I can say that whatever people might say or might try to break you, continue to believe in what you do. That's what I do every day. It is a constant challenge. And if you can't show your art, it doesn't mean that you are not a good artist. But you should know that the love of creating is what's strongest all the time.
Where do you see yourself in 5 years?
Let's see . . . in a luxury villa in Santa Monica . . . (ahahaha). Why not? This would mean that I've succeeded. More seriously, I wish I could exhibit In New York or San Francisco, the rest of America, to meet more and more people there. Whatever happens to me, I continue to paint. Painting became a natural need.  I will also continue to work with Amy Marie. We will make more and more shows together. It's so pleasant collaborating with Her.
Any last words?  Plugs?
I will soon be exhibiting my art on Sunset Boulevard. Thanks to Brian Espinosa for giving me this wonderful opportunity.  The show must go on!!
To learn more about Michael Stervinou, visit his website at www.michaelstervinou.com.