Krayzie Bone – "Even The Dark Knight Rises" Fashion Editorial
By
Jeff Linett - The Statement
| July 18th, 2013 | Category:
Editorial
,
The Statement
|
2 comments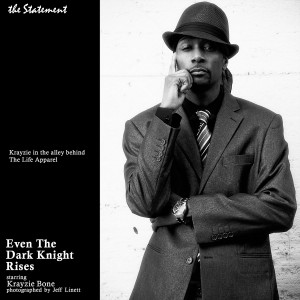 "Even The Dark Knight Rises" stars singer/actor Krayzie Bone.  This is a fashion editorial, photographed by Jeff Linett for The Statement, highlighting clothing from The Life Apparel.  The shoot took place in Downtown L.A. in and around The Life Apparel store. This editorial reveals the many sides of this talented, groundbreaking  artist.  Click to see the fashion editorial.
Read all about Krayzie Bone and his contribution to Hip-Hop.