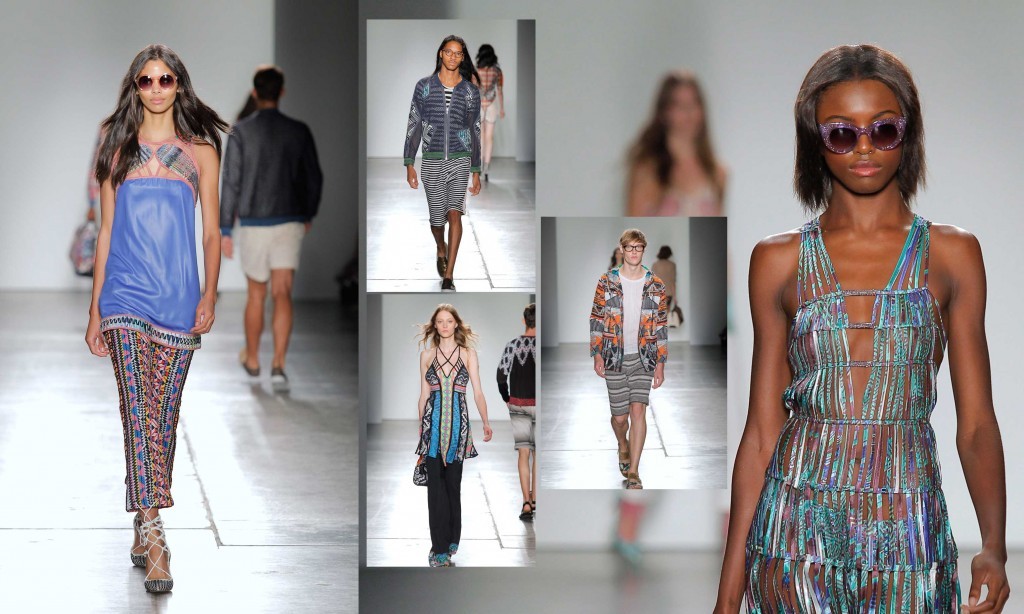 What has always fascinated me about Custo Barcelona is his ability to combine textiles and colors, and many of his collections that I have personally seen debuted on the runways have incorporated this unique quality. Has every collection of his been a huge hit? I would venture to say so. At least since I have known of him. Custo is one of those designers who takes what's trending in fashion and makes that trend unique and his own; and I would say he did that again this fashion week with his SLOW collection, which debuted at Pier 59 Studios in New York. An example of Custo Barcelona's trademarked mélange are the delicate mixtures of fabrics ranging from blond lace to an open knit mesh.
This 'trifecta'—as it is called in the firm—of three garments brought together by the same fabric and print in a single look yields a very compact visual concept.
Custo incorporates color palettes ranging from petal pink, emerald green, violet to mauve, fuchsia, Mediterranean blue, and tangerine . . . and they work together in tandem in all of the pieces. In this collection he teases us with the occasional black, almost as a cohesion for the vast array of colors. That coupled with the knit make this a fresh and innovative line for spring/summer 2016.
SLOW is the ideal, modern representation of the Mediterranean, inspired by nature. This was especially obvious in the menswear with its bold graphics and imaginative geometric forms. Below are just few pieces from Barcelona's collection, which consists of dresses, tunics, pants, coats, and more. I have always loved Custo Barcelona, and this season I loved his work even more!
(Images: www.ugocamera.com)