On August 11, 2016, I attended the screening of Welcome to the Men's Group at the SAG-AFTRA Foundation in Los Angeles. With much anticipation I sat comfortably in the front row as the room filled with eager moviegoers. I interviewed actor Ali Saam, who plays the role of Mohammad, and Scott Ben-Yashar, the co-screenwriter and producer of the movie, just a few weeks prior to this screening. Consequently, I had a vague idea of the film based on the trailer. It promised to be cutting-edge, but wow, Welcome to the Men's Group was so much more than I had expected!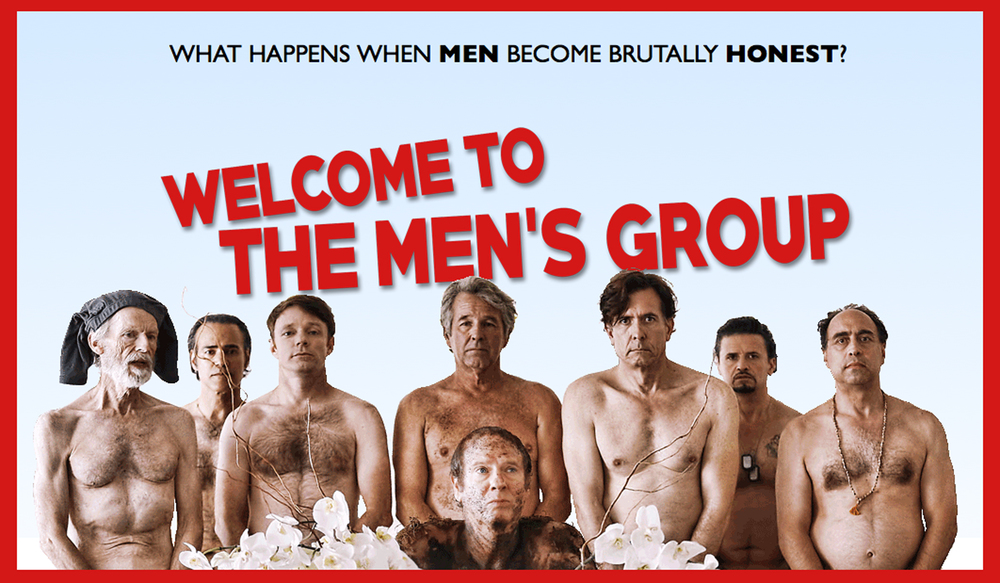 This film was so different in its approach yet familiar in its concepts. Take for example the Neil Simon masterpiece The Odd Couple. A bunch of guys (who are relatively good friends who live relatively normal lives) sit around playing cards exposing the flaws of their domestic lives to one another beset by unexpected circumstances and an absurd number of forced confessions. During that era, the 1960s, that was bold and somewhat shocking. And Neil Simon became known for this kind of "exposing" story-driven dialogue. In Welcome to the Men's Group, men talked about their deepest fears and feelings in a group setting with some rather unsettling consequences from which I witnessed complete transparency. This film moved me when it focused on the raw emotions of men. Remember, this is the gender that is not supposed to open up or ever ruminate about feelings, thanks to our Western socialization.
What makes this film particularly interesting is its diverse cast and roles. The complex archetypical male is portrayed by extreme characters, which I learned to love as the film played out. These characters ranged from macho to passive to A-type workaholics to a hardworking immigrant. It's a men's group that meets periodically and they "check in" each meeting with what may be going on with them in their personal lives. I felt the writers (Joseph Culp and Scott Ben-Yashar) did a marvelous job convincing us of these characters' intense bond with one another. I also felt a sense of real camaraderie in spite of their obvious differences.
Let's talk about the characters . . .
Most prominent was the character named Carl, played by actor Steven Tobolowsky. Carl goes from maniacal to bizarrely exhibitionistic. His unrelenting forceful attempts to show his male body parts makes his character an uncomfortable presence to the other men in his group. In order to stop him from harming himself, the otherwise modest men are faced with a choice—disrobe or play witness to a suicide. Without giving away any spoilers, I saw more male full frontal nudity in this film than The Full Monty ever promised to reveal.
Another character named Michael was played by screenwriter/director/actor Joseph Culp. Michael headed the men's group, led the questioning, and proved to be an extremely complex character with dark perversions and even more shocking revelations.
Mohammad, played by Ali Saam, is a hardworking restaurant owner who suffers from ingrained, immigrant, male sensibilities; he has it out with Neil (Phil Abrams) to whom Mohammad directs his hostilities when a certain action about his wife's friendship with Neil is in question. This is a hilarious, unforgettable scene that is choreographed like a ballet, and takes place in the backyard of the home of men's group member and host Larry (Timothy Bottoms). For the occasional voice of reason, Fred (David Clennon) serves somewhat as an unexpected mentor with his quirky, yet surprising observations and knack of seeing things from his unique perspective. The other two men's group members Eddie (Terence J. Rotolo) and Tom (Mackenzie Astin) clash when Eddie's unyielding machismo is challenged by Tom's untraditional male role in his household.
Welcome to the Men's Group is full of surprises. It will make you laugh, it will make you cry. This is a film that changes the rules. We women are all too familiar with digging deep until we get to the bottom of all that ails us. Welcome to the Men's Group teaches us that there is no man alive who doesn't have feelings; and he should not be afraid to show them!
For more information about Welcome to the Men's Group visit http://www.themensgroupmovie.com or go to Welcome to the Men's Group Facebook Page. The Indigogo Campaign