Last night I saw a show. It wasn't just any show. It was a statement about the future of fashion and the future of acceptance in fashion; perhaps even a redefining of fashion. In spite of the shock factor of many of the garments on the runway, there were a few standout, wearable items. Remove the styling, which obviously was for effect, the colorful silhouettes and inventive designs were fun, lewd, aggressive, stylish, original, and fiercely supportive of the LGBT movement and women over 40 walking the runway.  Men wore drag makeup, baggy pants, and strutted with determination in their stilettos. Many of the models wore binary hairstyles—short cuts with color sprays of pinks, fuchsias, and grays; and there were plenty of peek-a-boos! If it's art . . . and I am supposed to come to my own conclusions . . . clearly, traditional gender roles were not enforced or reversed, but rather, were a mélange. However, the clothes did complement. For the sake of the cause, I will refrain from the identifiers "male" or "female," "young" or "mature." Let's face it, as true as red, white, and blue, "Manifest" was a spectacle that closed LA Fashion Week with a reverberating message on October 10, 2018, at the Peterson Automotive Museum in Los Angeles.
Designer and artist Victor Wilde's Spring/Summer 2019 collection debuted his interpretation of direct action through art, incorporating artists, runway models, transgender and LGBT models, and women over the age of 40 on the runway.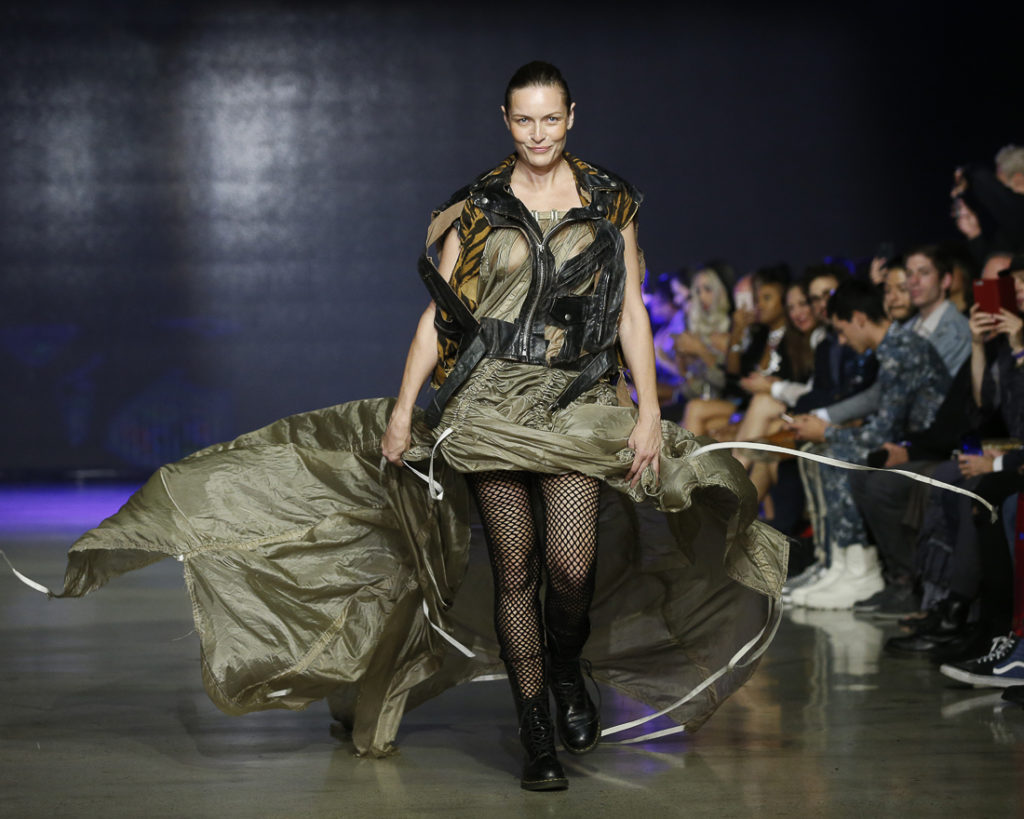 The designer's message and inspiration for "Manifest":

For Victor, this was not an ordinary "runway show." It was a spring happening, manifesting inclusion, and celebrating society's diversity. Models from all corners of society strutted the runway, including writers and curators, confidantes, and lovers, homeless friends, and members of the LGBTQ community. Actress Rie Rassmussen and trans icon Buck Angel both walked the runway celebrating the diversity Bohemian Society represents. And because of fast fashion and its pollutants, The Bohemian Society used "upcycled" materials. For the Spring 2019 collection, Victor took ready-made garments like Dior blazers and white button down dress shirts, deconstructed, then reconstructed into something different.

Photo Credit: Craig Bennett
Interview by Kaylene Peoples
Responses by Victor Wilde
Kaylene: Victor, what was your inspiration for this show?
Victor:  It's called "Manifest" and we're starting a trend, not the cut of a shirt or the cut of a pant. The trend we want to start is inclusiveness and creativity and direct action through art. We raised over $3,000.00 for local charities so far for the show, because of it. We have people from all walks of life. We'd like to say that we're exclusively inclusive. So that's what really Bohemian Society is. It's a society of people that maybe are on the fringes of other societies; and so we have our own thing going on.
Kaylene:  Interesting, too, that you said the word "fringe," because you did use some fringe in your collection. Tell me about that.
Victor: I think fringe is kind of magical. I don't know, I've always liked it. I have a fringe leather jacket that's probably my favorite piece of clothing. So there's something about it. When it moves, the motion, it's good for a shot.
Kaylene:  You're also doing a shout out for the LGBTQ society with this particular show. I liked how you styled a lot of the men's clothing with pumps and stilettos. Tell me why you did that.
Victor: I just like people to be who they are and this was an expression for people to be who they are in the show. It just looked good. I made those shoes. I got them in Santee Alley [DTLA Garment District] and I put UFOs on them, and I thought the aesthetics looked right.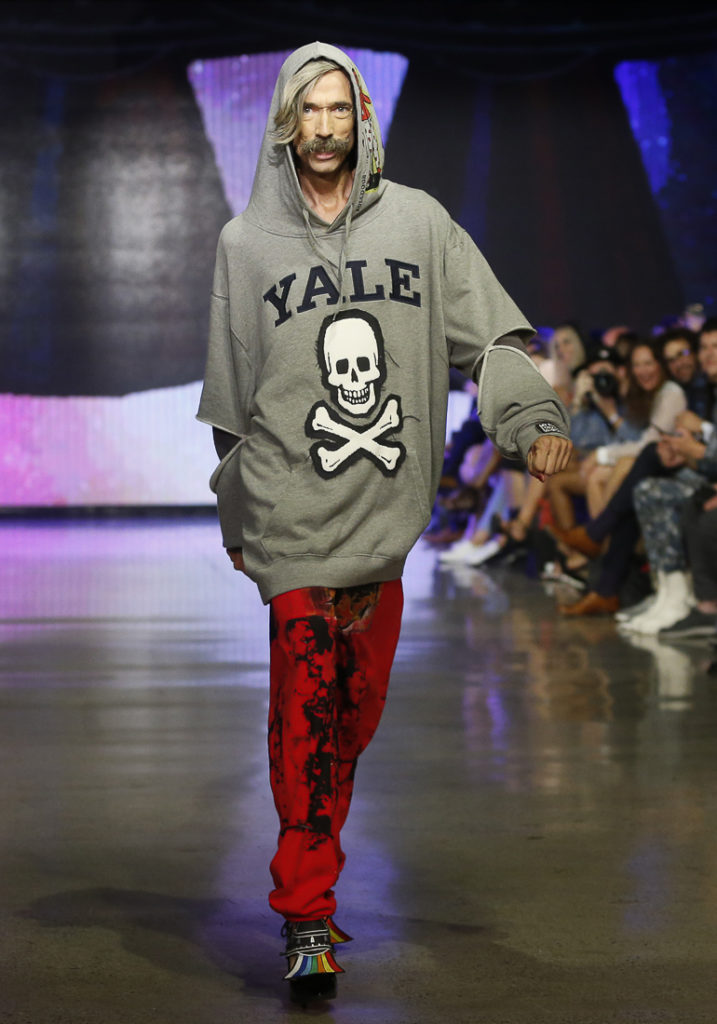 Kaylene:  I also love the back pant pockets with the sculls. Tell me why you chose to do that.
Victor: I have a lot of things in my studio; I have things that I never use. Instead of going out and buying new things, I looked around the studio and kind of cleaned house with what I had and utilized that in the show. It's really as simple as that.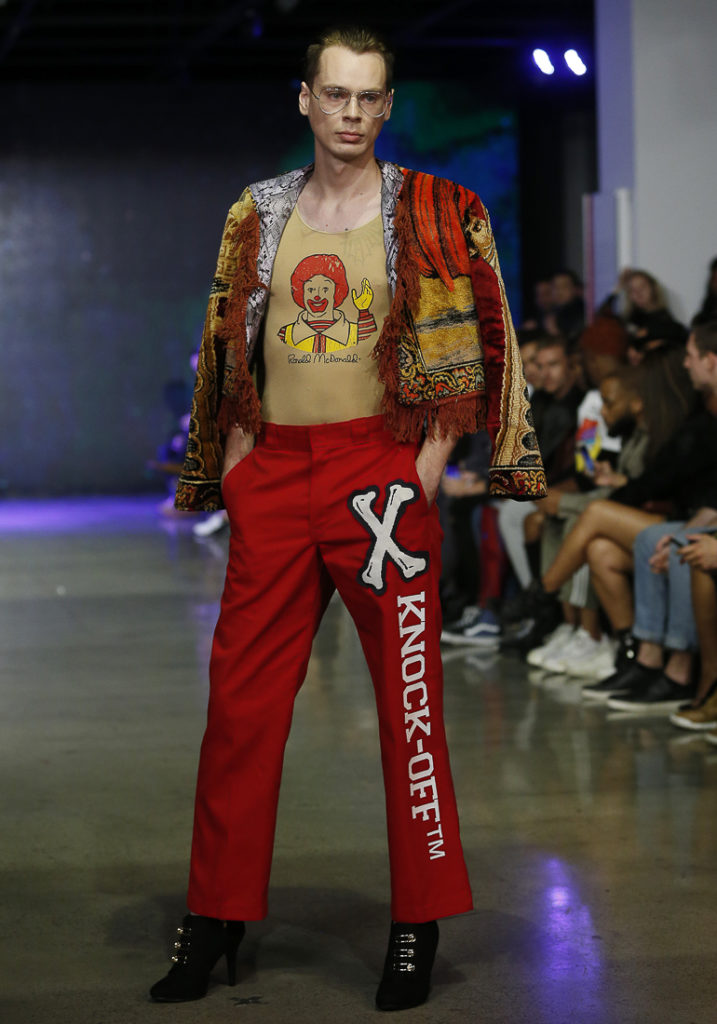 Kaylene: As far as inspirations from designers, do you have any influences you'd like to mention?
Victor: I never went to fashion school. I never studied fashion. My inspirations are more musicians and artists. I do like Yves St. Laurent but I don't follow certain designers.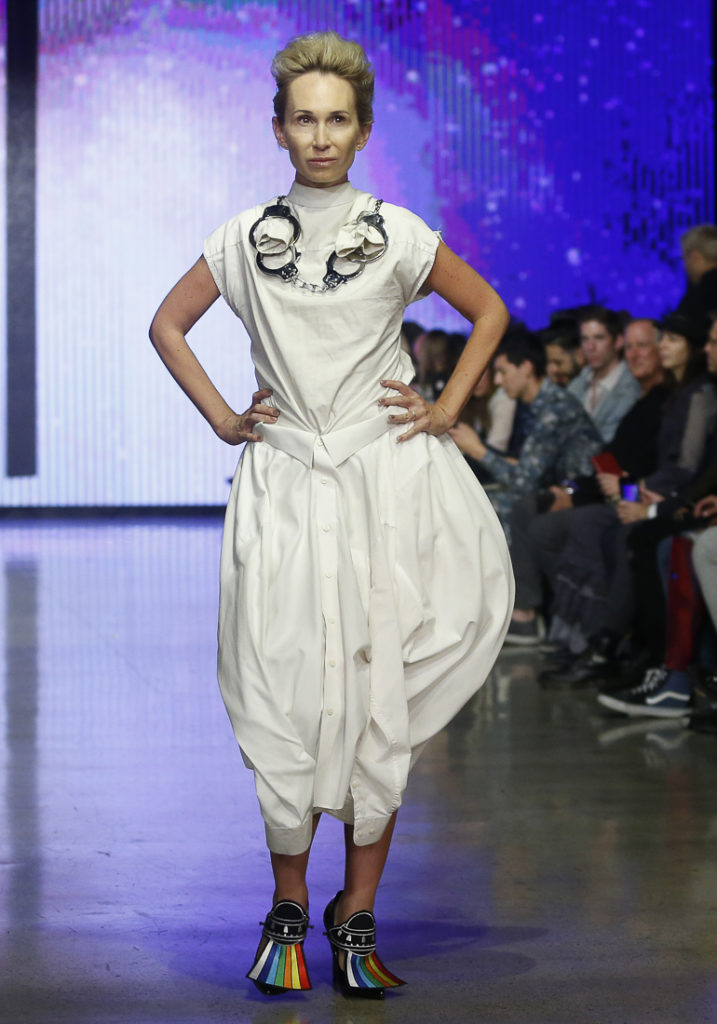 Kaylene:  So you're pretty much setting your own trend. You started a trend tonight.
Victor: I'm not the first one. But thank you.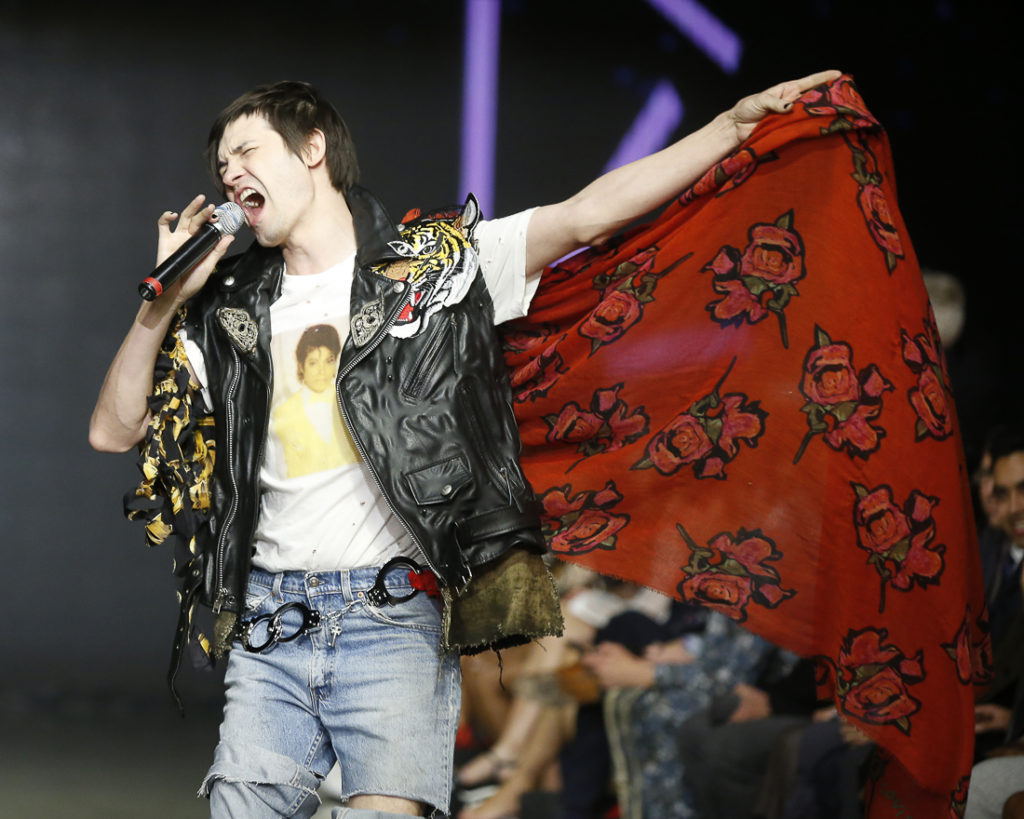 Kaylene:  Yeah, the imagery was incredible. I loved how you utilized the live performance. He was incredible. If you could sum up your show in two sentences, what would you say?
Victor: Direct action through art, manifesting positivity, creativity, and looking towards the future.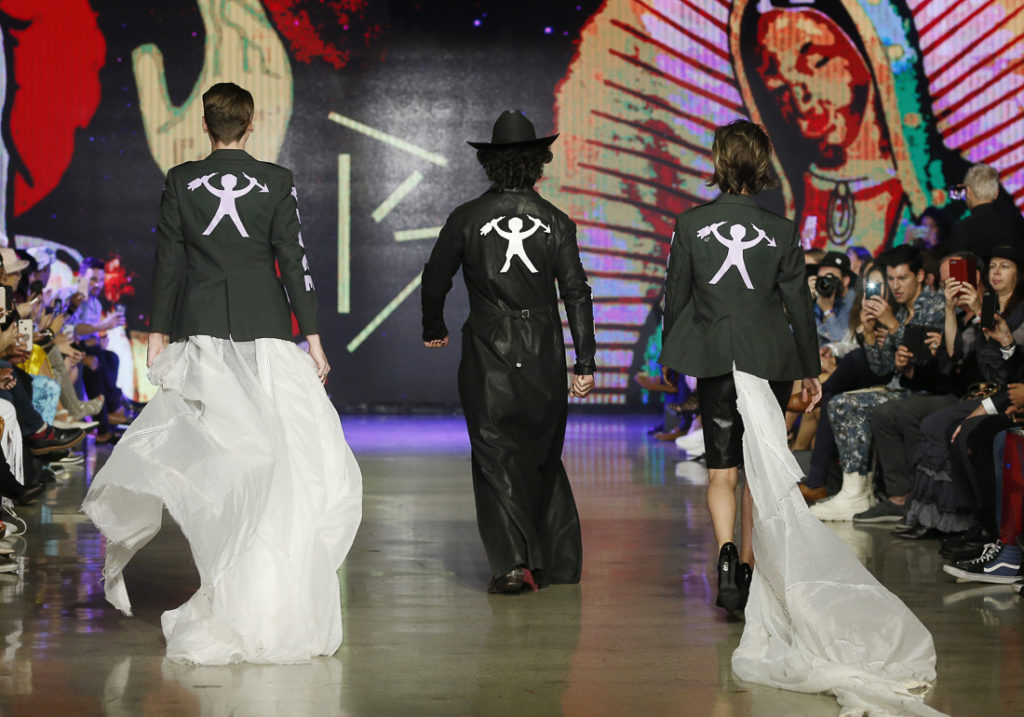 ---
Bohemian Society feels a responsibility to manifest good in the world and raised money (and awareness) for a DTLA women's center, the Los Angeles Poverty Department, and the Los Angeles LGBT Center.
Follow Us on Instagram @agendamag
Photographers:
Craig Bennett @thecelebatographer
Manny Llanura @mstrartist
Gabe Montero @gmontero_
Know of someone who'd like this post? SHARE!