ISSUE #50 – March 2013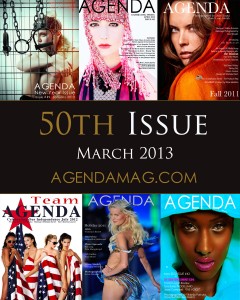 Fashion
1. Malan Breton's Fall 2013 Fashion Show Recognizes the Iconic Style of Marilyn Monroe (Including Runway and Backstage Photos)
2. Rolando Santana Fall 2013 Collection Inspired by Sculptor John Chamberlain (Including Runway Photos)
Fashion Editorial
3. "Springtime Barbie" – A Fashion Editorial
Talking Chic
4. Growing Up with AGENDA
Book Reviews
5. WINTER OF THE WORLD by Ken Follett
6. LOVE LOST & FOUND: REVIEW OF THREE NOVELLAS
The Mission
7. March 2013 Face of the Month Kaila Charice
Gifting Suites
8. Fun Times at The Kathy Duliakas' 5th Annual Celebrity Oscar® Suite & Party Benefitting the KIND Campaign
9. 5th Annual Valentine Romance Oscar Style Lounge & Party at Cafe La Boheme – A Fab Feb Fest!
Fitness Couture
10. Get Fit: The Magic of Muscle Confusion
Beauty
11. Love Your Skin: Myths and Truths About Acne & Makeup
12. Product Review: Bobbi Brown BB Cream
13. Go for the Gold: The Best Beauty Finds
14. Beauty 101: The Skinny on Fat Brows
15. Stript Wax Bar: Ready, Set, Smooth!
16. Beauty A to Z: E Is for Exfoliation
LA Art & Culture
17. The French Art of Seduction
18. A Close Look at the 21st Anniversary of the Pan African Film Festival
19. Interview with Kevin Staniec, Paper Farms Publisher
The Statement
20. Young American Fashion Editorial
21. The Falconer's Concubines Fashion Editorial
Entertainment
Interview
22. Actor Ali Saam Talks About His Experiences in ARGO with AGENDA Magazine
23. AGENDA MAGAZINE INTERVIEWS ALI SAAM OF ARGO (VIDEO)
Theater Review
24. The Gift at the Geffen Playhouse – Gift Yourself with a Gift from Australian Playwright Joanna Murray-Smith
Letter from the Editor
25. 50 Issues – You've Come a Long Way AGENDA Magazine!